Fewer apps. Less complexity.
Tyto combines the most crucial elements of collaboration all into one place, making it easier for teams to communicate, collaborate and focus.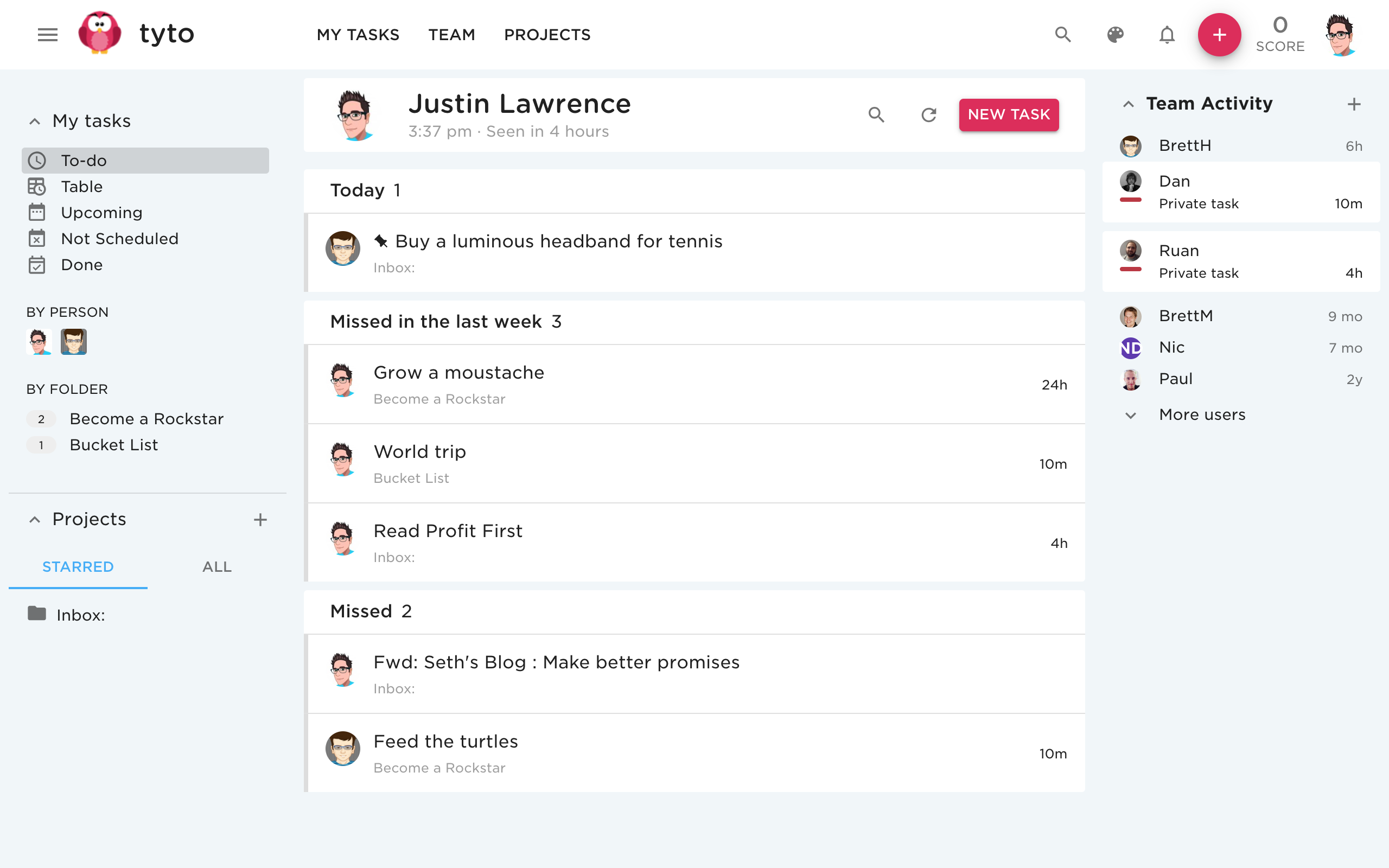 ALL-IN-ONE
Video
Call teammates directly or host group chats— via computer or mobile phone— all in one easy place.
See It In Action
ALL-IN-ONE
Chat
Tyto's built-in chat allows you to communicate with teammates without jumping from system to system. And with detailed task visibility, it means you'll interrupt them less often.
See It In Action
ALL-IN-ONE
Tasks
Improve your own productivity as well as your team performance using Tyto's powerful tasking engine— built to handle the complexities of real life.
See It In Action
ALL-IN-ONE
Projects
Manage multiple projects and team members all from your computer or mobile phone. Tyto makes teams connect and clients happier.
See It In Action
Kind Words From Early Adopters
"I've been through a ton of productivity apps for my team, never getting the results I was looking for. After just 2 days with Tyto, I find myself eager to start my workday."

— Pavel Popovichenko
"The score feature is awesome. Everyone here at our office has really had fun with it so far and each day feels like a race to see who can grind through the most tasks."

— Gregg Richardson
Want to learn more?
Attend a webinar
See how Tyto improves team culture through transparency, autonomy, clarity and trust. (Duration: 10 minutes)
Save Your Seat!
Request a demo
We'll review your biggest pain-points and brainstorm together on how to make your team super productive.
Book Your Demo Now
Get Your Team On The Same Page